Sat 9 Jan 2016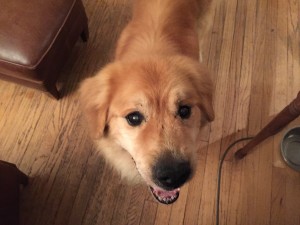 George is an 8 year old Golden Cross. We think he is a golden Newfy mix. He looks like a golden, but his head looks like a Newfy. His temperament is the best of both. He is kind, laid back and likes other dogs, people and children.
He has some arthritis in his back legs, but is improving. He was found abandoned on the street and was in pretty poor shape. He is flourishing here. He is a really nice dog.
He was pretty scruffy when he arrived. Took him to the groomer, and that was a breathtaking transformation.
George is house broken and knows how to use a doggie door. George is also deaf. He knows some hand signals and feels totally comfortable with himself.
Email me for more information.
kathleen@radiantrecovery.com