Sun 24 Jul 2016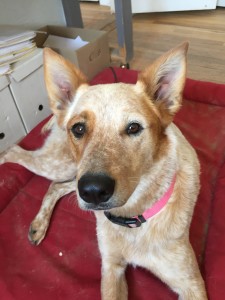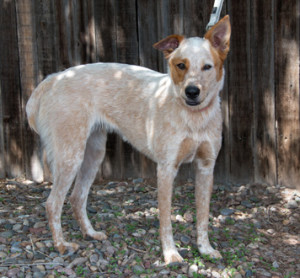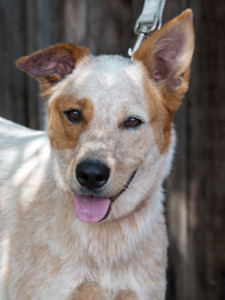 Marlee really, really needs a volunteer to come and run or walk with her. We have a couple of special needs dogs and her energy is higher than what they can cope with.  Can you help us out while she is waiting for her person?
She is not a Golden, but she has a story

Marlee is a 3 year old Queensland Heeler. She belonged to a friend of mine who died a couple of months ago. His family couldn't take her, so I agreed I would take her and find her a home.
She is a very loving dog, very. She is very high energy. She will do really well in a family who runs, hikes or does both. She is very, very smart. She does not bark, but she is a great alert dog because she takes care of her people. She loves people and most dogs, although if she meets another bossy female, she can have something to say.
She is spayed, housebroken, is chipped, has all her shots and such.
One ear is flopped in the second pictures because it got injured in a rough and tumble play time. She had to have a little drain put in her ear and she has been carrying flopped since then.
She is a great pup. Talk to me if you would like a loving, loyal companion.
kathleen@radiantrecovery.com