Sun 24 Jul 2016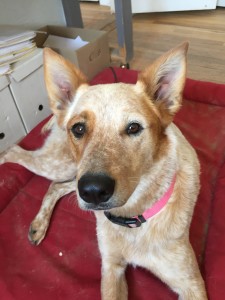 Ok, so she is not a Golden, but she has a story

Marlee is a 3 year old Queensland Heeler. She belonged to a friend of mine who died a couple of months ago. His family couldn't take her, so I agreed I would take her and find her a home.
She is a very loving dog, very. She is very high energy. She will do really well in a family who runs, hikes or does both. She is very, very smart. She does not bark, but she is a great alert dog because she takes care of her people. She loves people and most dogs, although if she meets another bossy female, she can have something to say.
She is spayed, housebroken, is chipped, has all her shots and such.
Right now she looks a little different from her picture because she and my dog were playing bite the head and her ear got hit so right now it is flopping and heeling.
She is a great pup. Talk to me if you would like a loving, loyal companion.
kathleen@radiantrecovery.com