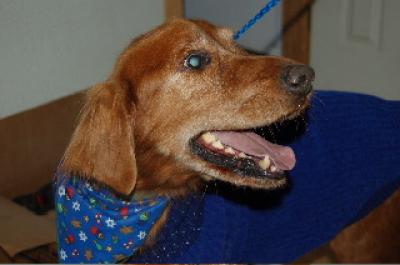 Chopper is one of the nicest dogs we have ever had. He is very loving and affectionate.
He gets along with everyone. He likes the other dogs, enjoys life a lot and is not flapped by anthing..
Chopper is blind but you would not know it. He does not think about it, he just finds his way. He can get outside through the dog door, take care of himself and get back to the bedroom in a flash.
Call Kathleen (345-3737) for more info. She has been fostering him and knows everything about this boy. She adores him, but if she an find him a home, she will be able to foster more dogs.