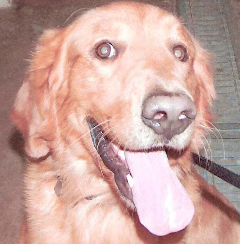 Buddy is a 2 yr old, male golden that was rescued by the ACHE (Animal Cruelty Heartline of El Paso) group from an abusive situation. Poor baby, his owners were kicking him and then threw him out on the streets like some piece of trash. He's a sweet, wonderful, active (not hyper) golden.
Buddy has a new family who just love him. He will get to go running with Dad and the girls think he is great.Moml oves him.
Everyone is happy all around.