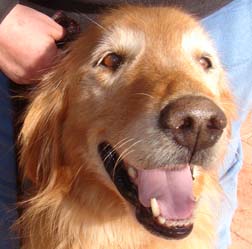 And here is Mr. Marley, a super good boy. He arrived with Morgan, couldn't walk. He was severely underweight. The transport people said, he has bad hips, nice personality, but he is in really bad shape. They said he was *old* and he looked pretty bad.
First we took him to the vet. Got all the tests done. No heart worm, no tick diseases, but he does have a parasite so he is getting no nutrition and is basically starving to death. So she put him on some meds and in 24 hours, he was a different guy.
Then we went to the groomer, got washed and scrubbed and cleaned up. He has such potential!
Now he is running around the yard smiling and laughing. He LOVES life, loves people and sometimes just barks with joy about how life is now. He loves going on walks, he loves to play and he is really very funny.
The vet and I agree that he is not *old*, but maybe 5-6. He is such a happy guy.
so Marley the good has a super new home…. His foster family couldn't bear to part with him!!