THIS WILL BRING TEARS TO YOUR EYES….WILL THE MIRACLE DOG!
OK, I am very happy to report that Mr. Will has a new home on a ranch in Edgewood. They love him lots.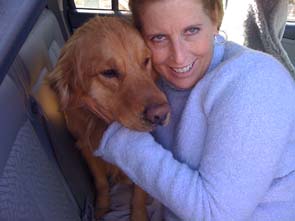 More pictures to come. Thanks to ALL of you that made this possible. Here is our first report:
I started to call you last night as it was Will's first day home alone. I wish I had my video going. I pulled up to the gate and called his name, whistled, called again, and then I saw him come down off of the porch. By the time I got in my car to drive on up to the house he came running full tilt down the driveway. After I parked in the garage I could barely open my car door. Once I did, he nearly knocked me over with excitement. He then rushed to the door to get in the house, ran down the hall, grabbed his frog and began frolicking. I just didn't have the heart to tell him he had bad hips. He was acting like a young pup.
Today, Tom will be home early and is hoping for the same excitement. I'm sure Will will be happy to oblige. I'm hoping to get home early enough to get some photos of Will outside. Last night I got one of Tom and Will sleeping together by the fire. I promise to get more photos and get them to you. He is doing so fabulously well! He has also brought Tom and I new life. We can't wait to get home each day to see Will….Oh, the pet store called today and his collar is being made this week. I should be able to pick it up by Friday.
So, Mr. Will is ready to go to a new home. Read to the end….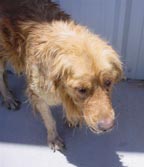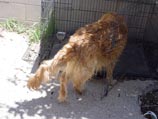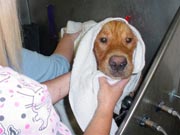 So Will's story is right out of Animal Cops. This is one of the worst cases of neglect and abandonment we have encountered. The folks at the shelter wanted to know if we would even consider him. I said, *Jennifer, get him tested for heart worm and tick disease.* She did. He is fine, just starved. So I said, *Jennifer, see if he really is a golden.* He is..She went to see him. Here is her report:
I think back to Heidi, and remember how shocked I was. Then there was Byron/Rusty. I thought between those 2 I had seen it all. I was wrong, today I met a dear soul that I've named "Will." I call him that because for the last few hours I've been with a Golden that, through everything he's dealing with, had a will to please and survive.
When I first saw him, I almost fell down. I got in his kennel with him and cried, I couldn't help it. He didn't get up, but he put his face closer to me and wagged. I petted his poor head and just held it. When I got up to get a pic, he stood up and wanted to follow me. He came out and the first thing he did was went over in the dirt and pottied. Such a gentleman, he was waiting to go outside his kennel. He could barely walk because of starvation, bad back leg, and nails like I've never seen. Yet, he followed ME and came into the grooming room.
We worked for hours removing mats and only shaved his stomach. Lynn clipped his mammoth nails. Then we put him in the bath. He tolerated everything with grace and appreciation. He's got such a precious soul, and he is a purebred Golden Retriever through and through. He was an angel through every thing we did. He is definitely going to be worthy of the success story page when he gets better. He did everything I asked even though I know he didn't feel like it. Will is amazing, and I pray he can get well and live out his life. Oh, I couldn't believe it, he's neutered. We all feel like somewhere along the line he knew love and care. How he came to this, we will never know. I'm speechless. Here's the remaining pics of the bath. Look at all the hair we brushed off before. I'm amazed we got out those mats, but we didn't want to take away from his Golden appearance. I love the last pic. The way he was looking at me from that towel melted my heart.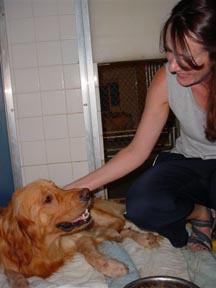 Will was dropped off at the shelter out pens before any of the staff were there. At our shelter we have pens for individuals to drop off animals at any time, day or night, no questions asked (I know, don't get me started). Anyhow, poor Will was left in one of those. No information left with him. I really feel the owner should have been located and charged with cruelty, but I have no power in this little village. The only info I have is from spending time with him and being all over him during the clean up process. He did get his Bordatella and a dose of Frontline. His test for Ehrlichia, Lyme, and Heartworm all came back negative. I almost got the feeling, by the way he looked, that he had been confined, abandoned, and trapped somewhere. We are thinking maybe a landlord or a good citizen found him, or took him out of a bad situation and didn't want to be found out as "springing" the dog from the situation. As bad as Will looked, we doubt the owners would have had the compassion or smarts to go to the trouble of taking him to the shelter. They must have been the type that would have dumped or killed him, as bad as he looked. So, that's about all I can tell you. He was covered in ticks and his gums were very pale. He did drink water and eat, and his poop looked normal when he went. We are all just puzzled and horrified by this. Is there anything else I can do for him? Please let me know. Also, I found him to be absolutely sweet and trusting, which makes me think he was more neglected than abused. Please let us know how he's doing and how his results turn out.
Ok, so we have a foster home for will. What we need most is money to help his vet bills. You can make a donation for Will. It is fully tax deductible. email Kathleen radiantkd@mindspring.com and I will walk you through the process.
He is severely anemic. He does not have a tick disease. We are doing x-rays on Monday and will see if his blood level has responded to the medication. He is eating and wagging his tail. He is a grateful doggie.
Aug 23, 2009
Well, Will is doing WAY better….. here is a little video at You Tube [click on the You Tube if you want to go see the video]
and here is a picture…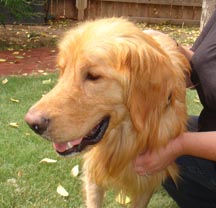 We have found out that he has Valley Fever. He has started medication for it and we are hoping he will respond even more. Your donations have been incredibly helpful and have allowed the process of sorting out what is going on. He is not out of the woods yet. Any help you can send, we will LOVE! His foster mom is working really, really hard to help him. She even cooks him dinner every night. He is eating 4 times a day and taking supplements. We are trying to get some weight on him. He has gained about 5 pounds so he no longer looks like a cadaver. It is one tiny step at a time.
October 6, 2009
Here is the latest on MR. Will. He has gained 20 pounds. He is stable and no longer in pain. Now we are just working on getting the VF into remission. But he is being a funny boy and actually has a sense of humor. I will try to get a video of him for everyone to see. When he was at the vets, he was FLIRTING with a cute little chocolate lab. The vet gave us some shampoo to make him smell charming. What a boy!
Nov 6, 2009
So Will's foster mom has let me know she thinks he is ready to go to a new home.
Nov 15, 2009
I asked Will's foster mom to bring him over so I could meet him in person to see how he is doing. I would not believe this is the same dog.
Here is is smile: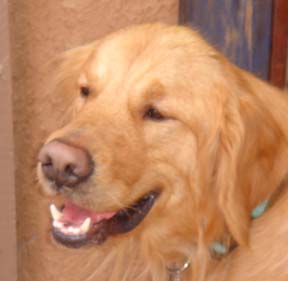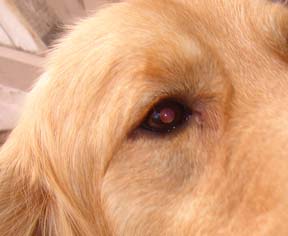 HI coat has come in, he has gained weight, he walks tall and he makes trouble 🙂 He loves dog toys.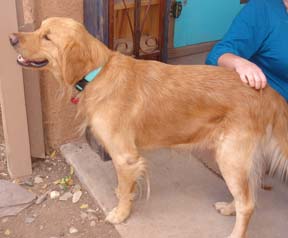 If you would like to meet this sweet survivor, email me and let's chat. Kathleen@radiantrecovery.com