Here is a post I received from one of our partners. Angel did not get a home this weekend. He is available. If you are interested, let me know. We will go ahead and bring him down from Espanola.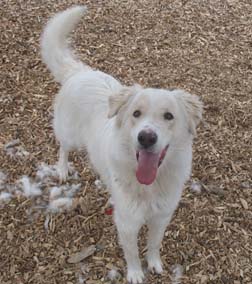 Hi Kathleen,
We have a lovely 9month old golden mix pup named Angel at our shelter and while I know you dont typically take mixes, I was hoping you might be able to send his info out to your waiting list in case he captures someones heart. He is a very sweet, social, exuberant boy. He is great with other dogs and submissive around a dominant female. He came in with a wound to his neck, but our vet volunteered her time to repair it and now the hair just needs to grow back. (It was superficial, no permanent damage at all.) He is very friendly and is learning to walk on a leash pretty quickly. He does fetch, although he is still trying to figure out why we want the toy back if we are just going to throw it again. He is neutered, vaccinated and ready to go home.
Thank you!
Nina
—
—–
Nina Chiotasso
Community Outreach
Espanola Valley Humane Society
(505) 470 -1278
Please be aware that I am often working from various mobile locations without regular email access. To best reach me, please call my cell phone at any time.