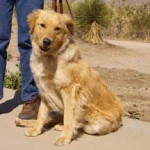 Daisy is a little sweetie with the typical loving golden disposition. She is approximately three years old. She LOVES people and is VERY affectionate. She is great with children. She is not demanding.
She has a back leg that does not bend. That doesn't seem to slow her down in the slightest. In fact she has been running and does even better at run than anything.
Daisy will do best in a home where she is the only dog.
Email kathleen@radiantrecovery.com