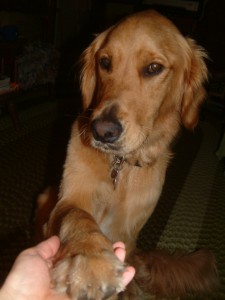 Fisher is a young male with LOTS of energy. He is a bundle of joy. He loves people. He is great with other dogs if they don't mind his enthusiasm. He loves to go walking and running and is terrific on the leash. Here is a video of him on a walk in the North Valley.
He also loves to swim and chase balls and he loves his stuffed animals. He has dozens of them and he carries them just about everywhere he goes. He often sleeps with one in his mouth or between his front paws. He's a wonderfully happy, affectionate boy and is very eager to please so he trains very easily. It has never taken me more than a few minutes to teach him things like sit, down, shake, stay. And he is always great about asking to go outside when he needs to.
Fisher was turned in by his owner because she is working late hours and just felt that she could not give him the exercise he needs.
email me if you would like to meet him.
kathleen@radiantrecovery.com