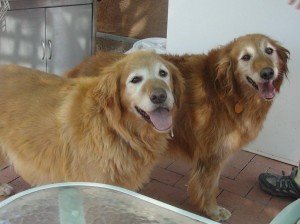 We placed Tony last year and he was soooo happy. Unfortunately, his new owner has been transferred back east and he could not take him. So he is back with us and wanting a new home. He is still darling.
here are some new pictures
These two are brothers and are the sweetest, most loving guys I have had in a long time. Tony is on the right. They were abandoned in an apartment, animal service was called and they were taken into protective custody. The father in law of the guy who abandoned them called us, sprung them and brought them to our care place. They arrived in terrible condition.
We washed and scrubbed them, and got all the mats and knots out, put conditioner on them. They were smiling and woofing! They LOVE going in the car, they love going walking. Exercise and good food are doing wonders. They are great with other dogs…laid back and funny.
These two are funny and LOVE people. They are up to date on shots, are chipped and neutered.
Their foster mom reports: Tony – more sedate, very loving. Absolutely loves to stand by you and just enjoy being petted as long as you're willing to do it. He will go into his kennel at night and is very quiet and happy to just wait for morning to come. He is a very good traveler – quiet and calm. Tony will sit before entering the house when made to do so. he certainly does not rush the door. About the only real rush is to the food dish.
email me at kathleen@radiantrecovery.com