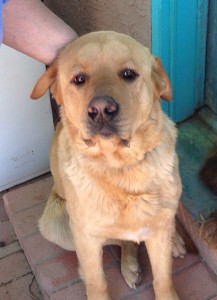 Lawson is a 2 year old, male Golden Retriever Mix. I placed him as a puppy and met his mother who was a Chocolate lab and his dad who was a golden. So he *looks* more labby, but his temperament is more golden if that makes sense.
he was raised in a family with small children and loves kids. He likes other dogs although gets bored with small dogs leaping on him. Loves to go walking, and is learning to like going in the car. We have been doing clicker training with him which he LOVEs. He is afraid of balloons. He likes being with him people and he is house trained.
He is a very nice dog.
he has a chip, has has his shots and has been neutered.
Email me at kathleen@radiantrecovery.com