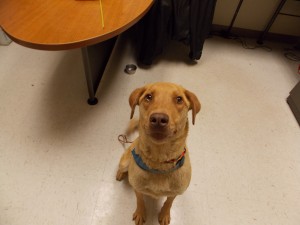 Mister is a 2 year old something with an amazing personality. The Hobbs shelter called me and said *we have a Golden Retriever, can you take him?* I said, *send me a picture, please.* Then they emailed again and said, *Ok, we are ready to send him.* I said, *picture, please*. So finally they did, LOL.
I thought, *that is NOT a Golden Retriever by ANY stretch of the imagination* but I happen to have space and he is really cute. They said he has a darling personality, likes dogs, likes people. He is neutered, has had his shots and is chipped.
So you know what I said, * All right, all right, send him over.* I am still laughing. He looks like a Meercat. I could cheat and say he was a Golden Cross, but I don't know it would be with. His personality is a Golden.
So if anyone would like a loving, affectionate goofy looking dog that has been screened by your local Golden Retriever Rescue, Mister is your boy.
email me kathleen@radiantrecovery.com