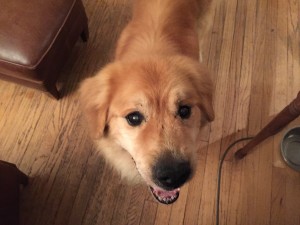 George is an 8 year old Golden Cross. We think he is a golden Newfy mix. He looks like a golden, but we think there is something else there because his eyes are shaped differently. His temperament is the best of both. He is kind, laid back and likes other dogs, people and children. He is very, very funny.
George is house broken and knows how to use a doggie door. George will do best in a home with older people rather than a young family with kids.
While I was in Maine, I met a Newfy at the local farmers' market. Pretty much convinced me that George is indeed a Newfie/Golden Cross.
Email me if you would like to meet George.
kathleen@radiantrecovery.com