Tue 19 Apr 2011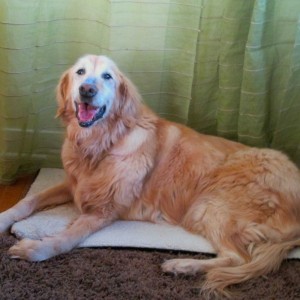 Goldie is reputed to be about 10. She was living in a family and the wife died. The husband sort of just left her out in the yard. She was given to the shelter, then to a rescue group who placed her in a foster home. But her younger dog didn't like this old lady and kinda went after her. So that person finally called us. Whew! She took her to the vet and got a clean bill of health include full blood work and xrays. They also did a dental.
When she arrived, she was arthritic and pretty slow to move. Now, with some special Kathleen supplements and some regular walking, she is rocking. If you love the old dogs, this one is a charmer.
This is a wonderful!!!! dog. her hind legs are getting stronger but she is in good health and has a great attitude. She is loving, grateful and kind. She likes other dogs and is content to sleep. She needs to be with someone who loves the old ones and who will give her the care and tenderness she deserves..
Every once in a while we get one of these sweethearts. I KNOW there will be someone who will treat her the way we would treat out mothers.
email kathleen@radiantrecovery.com
Leave a Reply
You must be logged in to post a comment.