Golden Retriever Rescue of New Mexico is a 501(c)(3) nonprofit. We have been in business for about 16 years and have successfully placed more than 850 Goldens. We are here to help dogs find loving homes and to help you find a perfect match.We work hard to make sure that you have a dog that suits your family and your lifestyle. We are well thought of in the Albuquerque community.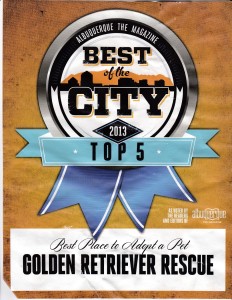 Here is the process for getting a dog:
Fill out our adoption application here
AFTER you have filled out an application, you can call us to talk.
Join our email list to hear about our dogs
See our currently available dogs by clicking on the dogs tab. You may see a number listed as *available* that is different from the pictures of dogs. Each post is considered an *available* post.
We do have a waiting list. We place dogs by match rather than your place in line. The more information you provide in your application, the better we can match you to a dog. What we care most about is your ability to provide a loving home suited for your dog. Be honest and share as much as you can about the particularities of your household. If you really want a couch potato, tell us. If you love seniors or dogs with special needs, tell us. If you run 5 miles a day and want a triathlete to run with you, tell us that too.
Applications are processed by
In Albuquerque or all of New Mexico:
Kathleen (505) 345-3737
Kathleen@radiantrecovery.com
.