Tue 10 Feb 2009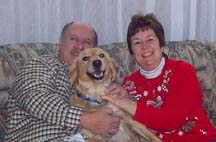 Cuddles was an owner surrender at the Animal Services Center of the Mesilla Valley. She had been diagnosed with heartworm disease and was going to be put down. After being rescued by GRRNM, she is now at home in El Paso with Paul, Jayme and Kadin, the cat.
She has been renamed Esther after Queen Esther in the Bible. Like Esther, she came from a humble background (obviously because of her heartworms and being given to the pound), she was prepared for a time (because she had to go through the heartworm treatments), she was chosen by the king (Kadin let her in his house!), and she is DEFINITELY queen of the palace!!
Leave a Reply
You must be logged in to post a comment.