Thu 12 Feb 2009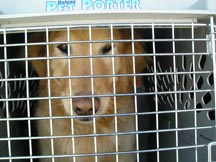 This is her mug shot before her bath. Georgia is a really sweet dog. She is about 3 even though her muzzle has some white. She has a wonderful temperament, loves other dogs, is very affectionate.
She will make a fabulous pet.
Georgia has a wonderful forever home on a farm with a family who recently lost their Golden.
Leave a Reply
You must be logged in to post a comment.