Fri 11 Sep 2009
Please note that this dog was given away because he was destructive, out of control and not a good dog.
His story is the essence of what rescue is about…the best of re-homing.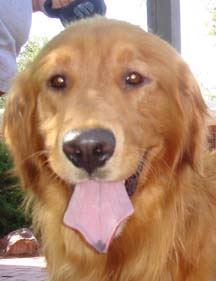 Hank is a 4 year old male who is as sweet as his picture. He has had a hard life. He was pretty badly abused in the past. When I picked up the broom to sweep the porch, he hit the deck. But he is loving, attentive and really wanting to please. He loves to go walking and running. He is neutered, has has his shots and is very healthy.
He does get anxious if left alone so we are going to recommend that he be crated if you go away. He will do best in a family where someone is home during the day. He loves kids and other dogs.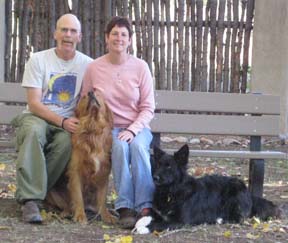 Great news from the family.
It's been almost 3 weeks since we picked up Hank, and life for all is going wonderfully. After Hank has nearly run us over several times and continues to step all over our feet, we have reconsidered his name and it has morphed from Hank the Tank to just Tank. And you know, it quite fits his lumbering and easy going way very well. Though, over the first week or so, since he constantly followed us about the house, we did consider naming him Hemorrhoid.
As per our contract, we had him to the vet within the 7 days, and all is well. Him and Gabe are getting along well. Though at first, Tank was not really interested in playing, but over the last week that has changed and the two wrestle around and chase each other through the yard quite a bit. Mostly, I noticed a continuous increase in the amount of tail wagging that he does and it pleases both Stacey and I that he seems very happy and is settling well here.
With regards to his obedience his is doing very well. He is pretty good about coming when called. We found that "sit", "stay", "down", and "out of the kitchen" were not in his vocabulary, but we are slowly working with him to get these down. There seems to be something with sitting that brings out a bit of fear. Sometimes he ducks or lays down as we work with him. Definitely he has some bad experiences there. However, we are making his "sit" command a very positive experience with lots of praise and love.
His is very good in the house (house trained) and prefers to lay very close by to where either Stacey or I are located. He very much likes his food and will come to the table, but I think he is really looking for affection. Ignoring him work well and we are teaching him "No, mas" when he should lay down and not bother anyone. He is good about not eating Gabe's food. He certainly understands "no", and we are including "not yours".
At night he sleeps in the bedroom with us. He is not confined, he is free to go around the house as he chooses. Though he prefers to hang with us in the bedroom. His separation anxiety is there, but some much less now than when he first arrived. During the first couple weeks Stacey was mostly home though she did practice with him by putting him outside for short periods of time. Then leaving the property, etc. Over the last couple days, both Stacey and I were at work without any problems. No destruction, etc. He gets his treat in the morning when Stacey leaves and does come to the fence, but doesn't jump up or try to get out. I have not noticed any digging near the fence and we are sure Gabe has a big part to play in this. We have also left the back door open so he can come into the house and we are working on getting the doggy door opened up for him and Gabe.
He is very good going for walks, meeting other people and dogs. I have also taken him for a couple runs which he has done very good. He also seems to like hanging out on rides and will jump right into the vanagon.
I think that is our report for now. All and all, he is doing fantastic and it is wonderful to have him as part of the family, for now and many, many years to come. Thank you.
Brian & Stacey
Leave a Reply
You must be logged in to post a comment.