Tue 3 Nov 2015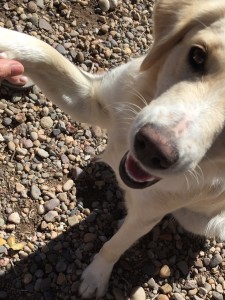 Roxy is an 18 month Golden/Border Collie Cross. She is short and sassy. She adores people is housetrained and has a wonderful personality. She affectionate and loving.
She had all her shots, a chip and has been spayed.
She is absolutely brilliant and would be a great candidate for agility or frisbee work. She is fast, agile and really, really observant. She also points, if you wanted to take her hunting. Because she is so smart, it also means that her family will have to do things to keep her from getting bored. If you run, she can keep up with your for miles.
She is an intriguing little thing. Email me if you want to talk about whether she would work for you.
email if you are interested at kathleen@radiantrecovery.com