Mon 23 Nov 2009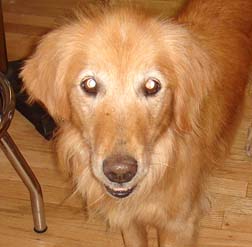 Morgan is a 5 year old female. She came to us because her own said the dogs were *sick* and he didn't have the money to take them to the vet so he was going to shoot them. So we got them.
It turns out that she and her brother Marley had parasites and were starving to death. When we got them, Morgan only weighed 42 pounds and was covered in mats. A visit to the vet took care of the parasites. A visit to the groomer was like going to the spa. Good food and lots of love has made the world of difference. This is one happy dog. Morgan is funny, loving and loves attention. She is a great dog and will do really well in a family with children.
She likes other dogs – although does better with males than females. She tends to want to be queen of the pack.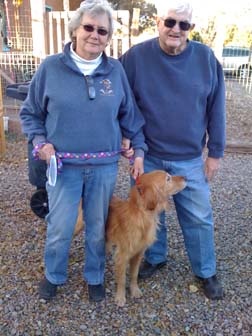 Here is her new family. They are thrilled. Here is a note from them
I want to thank you, and tell you the good news about the Golden we
picked up from Kathleen yesterday.
We have a young female (Morgan, on the GRRNM website) who seems very
compatabile with our male. She is just as sweet and affectionate as can
be. It is amazing to me that she came from such neglect and abuse for you
could never tell by her gentle, loving demeanor.
She is very, very skinny from starvation due to parasites. She and the
other dog (maybe brother) that was brought in were owned by someone who
either wasn't willing or able to handle any vet bills, so the solution was
going to be to shoot them both!
My heartiest thanks to both you and your husband for your involvement
with this work.
Leave a Reply
You must be logged in to post a comment.