Mon 16 Feb 2009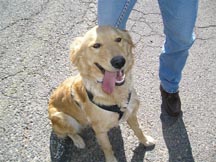 This is a silly picture. She is really quite darling. Shasta is an 10 months old female. She is shy and skittish and needs to be socialized some. She is very loving and very pretty. We are just getting to know her.
Shasta is with her new family. They just love her and she loves them!
Leave a Reply
You must be logged in to post a comment.