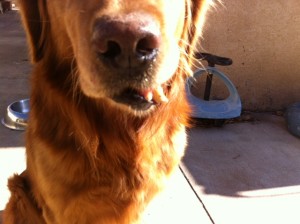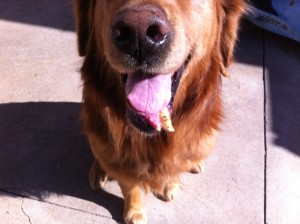 Buddy was an owner surrender. They had contacted us because they said the dog was injured and they could not afford to take him to the vet. We agree to accept him. Basically, the dog's front teeth had been ripped from the bone so the entire root was exposed.
When the owner came, he said that this injury had happened in September.The dog was shaking so hard he could barely stand. It was clear to me that he was in severe pain. I had the guy sign him over to us and got himn into the vet the next morning. Their evaluation showed that in fact 3 teeth were broken off, several others were broken, his eye had a severe injury and he appeared to have a number of older injuries to his leg and back.
When he arrived, Buddy hit the deck and stayed their crouching in the corner. The owner said he kept running away and I am not surprised. The vet reconstructed his jaw
and I got to work teaching him that he would not be hurt again. I hand fed him special food and spent a lot of time with him. The light came back in his eyes. He started rolling in the grass and kicking. I brought over another young boy and the two of them were dashing around being dogs.
We asked Colorado if they could help with the expenses and they graciously offered to accept him into GRRR. They had a person down her for the holidays and she was able to transport him up there for a new home. Here is her report
Okay, so I hope you don't hate the new name, Nelson. We figured he had a new life and needed a new name – he certainly was not previous owners 'buddy' from what I heard from Kathleen.
He rode in the car like a champ and didn't want to get very far from me when I stopped for a break – just wanted back in the car so we pushed through and had an uneventful 6.5 hour ride to Golden. He has done well here with our dogs. They are very well adjusted and socialized and he is learning its okay to be happy and carefree. We have almost 3 acres for them to run around on and take them out to the back field a couple of times a day for exercise. This morning they were making snow angels. He has an endearing habit of coming in between my legs from behind and sticking close by. He has such a cute expression and I can't wait to see more of his charming personality evolve. He will see our vet and the eye doctor as soon as we can get him in.
Will keep in touch – thanks for your help getting him to GRRR!!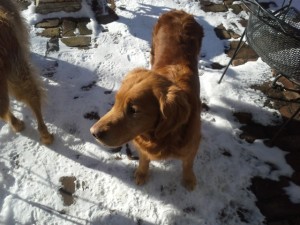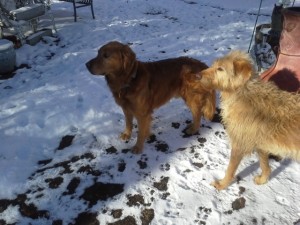 I will be moving this to the adopted and success story pages but wanted to let you share first.
Kathleen